(Press photo courtesy of Grandstand PR)
"Imagination, the real and eternal world, of which this vegetable universe is but a faint shadow, and in which we shall live in our eternal or imaginative bodies when these vegetable, mortal bodies are no more." (Jerusalem: The Emanation of The Giant Albion, William Blake. 1804)
"[Transcendental black metal] is a clearing aside of contingent features and a fresh exploration of the essence of black metal. As such it is solar, hypertrophic, courageous, finite and penultimate." (Transcendental Black Metal: A vision of Apocalyptic Humanism, Hunter Hunt-Hendrix. 2009)
"It's [heavy metal music is] symphonic bombast without the intelligence and complexity. That music is so masculine in a really retrograde way. It's so masculine. I don't like that at all." (Robert Christgau interview with NPR's All Things Considered. 2015)
We were at a bar in Brooklyn, but we could have been in any of America's cities with young passionate music fans (Portland, Seattle, Austin, Philly, et al.). Amidst the pods of the mingling and imbibing, there was a group talking about music trends and in a way, social issues. More specifically, there was talk about the implications of wearing a Burzum t-shirt in public. Burzum defined the sonic territories of black metal. Their music was recorded under intentionally low quality conditions, using boomboxes as guitar amps and recording screams with headsets. Music for and of the void. It was a project fronted by convicted murderer, alleged church arsonist and white nationalist Varg Vikernes.
This person's concern seemed, after all, legitimate. Was wearing Burzum band merch somehow an endorsement of arson, white supremacy, and stabbing as a form of conflict resolution? How does one begin to reconcile the real life actions of an artist whose artworks are admired? His friend retorted that he shouldn't listen to black metal at all (no less sport their merch) not because of these ethical dilemmas it presents, but because of the ways in which it had become diluted by its trendiness. The spark of danger, spookiness and aloneness that it communicated had diminished thanks to a fleet of contemporary American bands re-interpreting the genre to their own advantage (the irony of young people in Brooklyn discussing this notwithstanding). To stoke the fire, I naturally brought up the local band Liturgy.
("The Ark Work" album cover courtesy of Grandstand HQ PR)
According to my conversationalists at the bar, Liturgy who were now on their third full length, had become acceptable instead of infuriating because their music had evolved from simply replicating black metal tropes. They were no longer "hipsters" trying to tap into the mystery of an obscure and extreme subculture (posers). They had shaken off their scarlet letter as the band's creative ambitions widened. In other words, according to this fan, they were no longer a threat to the authenticity and sanctity of the genre because of how many other styles they now touch on. Tough critics.
Perhaps the anticipation of conversations like this, is exactly why Liturgy's new album "The Ark Work" (Thrill Jockey) is so expansive and increasingly more brave in its interpretation of black metal, replete with Gregorian-style chants, marching drum patterns, long sequences of spectral droning, a range of sounds played not just from guitar, bass and drums, but also from horns, digital beats, piano, violin and bagpipes.
It's important to note just how important Liturgy were among independent rock music fans and journalists during the late aughts when the conversations around black metal started going viral. The 4-piece on their debut "Renihilation" (20 Buck Spin) were exploring the textures and dynamics of a style of music that fueled church burning in Norway during the early '90's. The same style of music performed by men in theatrical black leather, spiked adornments, and masked in corpse paint. Liturgy were decidedly not of the theatrical ilk (they play in t-shirts and slacks). Perhaps the more notorious "offense" committed by the band, was frontman Hunter Hunt-Hendrix's essay on what he considered to be the band's transcendental take on black metal.
(Transcendental Black Metal: A vision of Apocalyptic Humanism, Hunter Hunt-Hendrix. pg. 58. 2009)
(Transcendental Black Metal: A vision of Apocalyptic Humanism, Hunter Hunt-Hendrix. pg. 61. 2009)
"Transcendental Black Metal: A vision of Apocalyptic Humanism" was shared in the 2009 Hideous Gnosis Black Metal Theory symposium. It is simultaneously the band's raison d'etre and their Achilles' heel. In the piece, Hunt-Hendrix proposes that the form of black metal played with his bandmates, strips away the nihilist attitudes of the genre's forefathers and expresses an engagement with life rather than retraction from it.
"Transcendental Black Metal is the reanimation of the form of black metal with a new soul, a soul full of chaos, frenzy, and ecstasy. A specifically American joyful clamor, which is also a tremor. Or maybe it is the opposite act: a peeling away of the husk of convention, the dead skin of clichés and a fresh exploration of the living soul of black metal, with the aim to reactivate its purest essence and produce something that grows from it but does not resemble its earlier incarnations because it is built from the ground up in a different time and place." (Hunt-Hendrix, pg. 59)
While admirable in its intent, it was exactly the kind of high-minded perspective that threatened the purists. Ever the judging and dedicated fanbase, metal fans were quick to condemn the band for their intellectual aspirations. The fallout, along with mounting internal pressures relating to hard touring and partying, caused the band to take a brief hiatus, until now.
"The Ark Work", is as eclectic as it is far reaching in its creative scope. The distant screaming on previous Liturgy albums has been replaced by a chanting vocal style. You'd be hard pressed to find that messy, reverb-drenched guitar distortion either. Most riffs, while still tremolo picked, are higher in register allowing the lower end of the sonic spectrum to be played on bass and the dynamics of the compositions to come from other sounds.
The record's introduction "Fanfare", features a cluster of triumphant horns, and reminded me of John Williams. "Kel Valhaal" also updates their formula. Where guitars would thrash, in its place are bells, horns and bagpipes, matching the unusual polyrythmns of Greg Fox's propulsive drumming. "Follow", and "Follow II", start almost like the prog-rock film scores of Goblin but with the familiar adrenalized blast beats and dissonant crescendos. The appearance of intentionally obvious digital editing all over the record somehow makes it feel modern.
In the press, Hunt-Hendrix had also discussed incorporating a hip-hop influence. "Vitriol" is the most fleshed out expression of this which features triplet vocal patterns over chanting refrains and digital kick drums. The leadoff single "Quetzalcoatl", which begins with uptempo 4-on-the-floor beats and synthesizers, ends up pushing towards far heavier emotional territory with the addition of the aforementioned new instruments.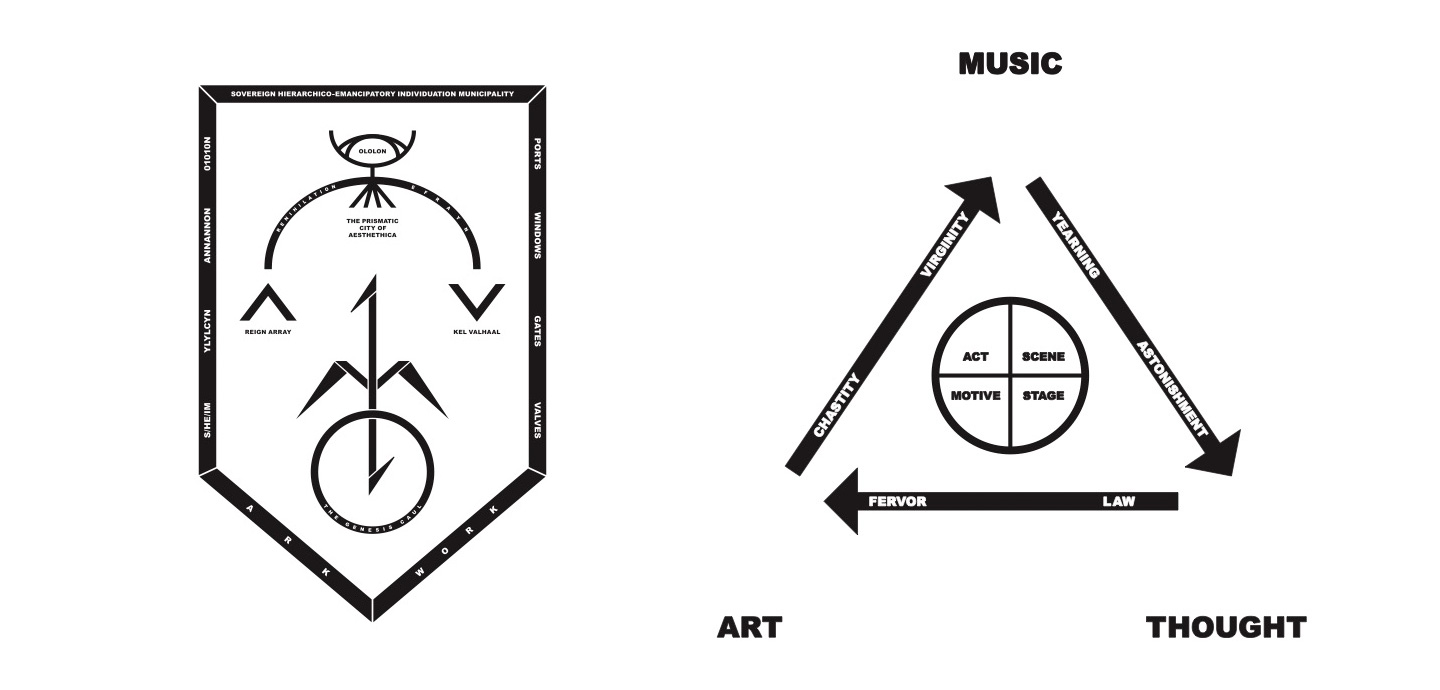 (Courtesy of Pitchfork)
Being eclectic is not new, but it is for this reason alone, Liturgy are valuable and prove to be imaginative in their confrontation toward heavy music tropes by infusing an intentionality and intellectualism to their creative expressions. While they have again re-contextualized their love of the compositional style of black metal music, they haven't abandoned the philosophical justifications behind their take on it. You will see in the album's liner notes a detailed diagram expanding upon the concepts initially brought up in Hunt-Hendrix's treatise on the genre. Their lean toward transcendence is also as much a part of the stylistic decisions on the record, as they are a focal point of the lyrics:
The absolute the undifferentiated
Which has no divisions
No time no extension
("Kel Valhaal")
Liturgy Summer 2015 Tour Dates
06/19/15 Fri - Toronto, ON, Canada
06/20/15 Sat - Montreal, QC, Canada with Yvette
06/21/15 Sun - Allston, MA with Yvette
07/14/15 Tue - Pittsburgh, PA with Yvette
07/15/15 Wed - Cincinnati, OH with Yvette
07/16/15 Thu - Milwaukee, WI with Yvette
07/17/15 Fri - Eau Claire, WI - Eaux Claires Festival
07/18/15 Sat - Chicago, IL with Locrian, Yvette
07/18/15 Sat - Eau Claire, WI - Eaux Claires Festival
07/19/15 Sun - Detroit, MI with Yvette
07/20/15 Mon - Buffalo, NY with Yvette
07/21/15 Tue - Providence, RI with Yvette
07/22/15 Wed - Baltimore, MD
07/24/15 Fri - Brooklyn, NY The Wick Gigawatts Festival